The story of a show and a host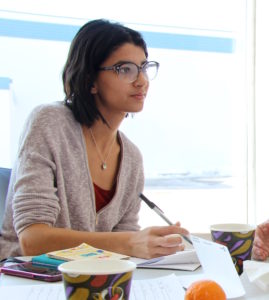 Ayesha Barmania… that's me. I'm the host and producer, behind the show.
Sounds Like Life began as a radio show on Trent Radio, and like it is today, it's a podcast experiment in audio diary keeping.
It began at a time that I was feeling entirely overwhelmed by being out of school for the first time, under-employed, and then starting a new job. I found I needed a moment to relax and take in the world around me, that I felt was speeding by.
For my first show, I captured the sounds of a storm that was once Hurricane Matthew. The news media had made a huge fuss over the storm as it approached Mexico and the Southern United States. They expected massive wreckage and ruin. But as it passed overhead, there was little to no damage at all left behind. After a few days, this disappointing hurricane made its way to Ontario and in Peterborough we heard the sounds of the rain falling, and I captured it with my recorder.
At some point I may upload those old episodes of Sounds Like Life, but for now, it's all new podcast material.
Thanks to the Peterborough Independent Podcasters, this radio show is now available online. If you'd like to make a guest episode of Sounds Like Life, or if you'd like your music featured in an episode, get in touch. I'd be happy to hear from you.